Sewing a Better Future in Education and Livelihoods through Menstrual Health
Days for Girls Canada
Stepping into a booth at a sewing and crafts show in Edmonton seven years ago, Louise Colonnier had no idea that a new chapter of her life was about to begin. She was at the exhibition as a member of the Edmonton Weavers' Guild to demonstrate spinning. Louise walked around the showroom during her break and came across a particular booth that stood out from the rest for its intriguing name – Days for Girls. Intrigued, she started asking questions. 
That was how, at the Days for Girls (DfG) booth, Louise first heard about the specifics of menstrual poverty and how widespread it is. What she learned that day and what she chose to do about it have taken over Louise's life. And what's more — her generous commitment to effect meaningful change by sewing menstrual hygiene kits and sowing leadership has turned around the lives of thousands of people around the world. 
Menstrual poverty means not having what is necessary to manage one's period. Although the specifics of what this looks like vary in different parts of the world, menstrual poverty affects education — the ability to attend school, academic performance, graduation rates — and thus, livelihoods, family income, and entire communities. Menstrual poverty is a tragic issue that, without adequate intervention, is perpetuated for generations.
Menstrual poverty personally impacts almost one in four people who menstruate, or about 500 million people. Picture the entire population of Edmonton, Alberta — 500 times over. Given its direct impact on education, resolving menstrual health issues will have significant economic consequences. The World Bank estimates that the return on one year of secondary education for a girl correlates with as high as a 25% increase in wages later in life.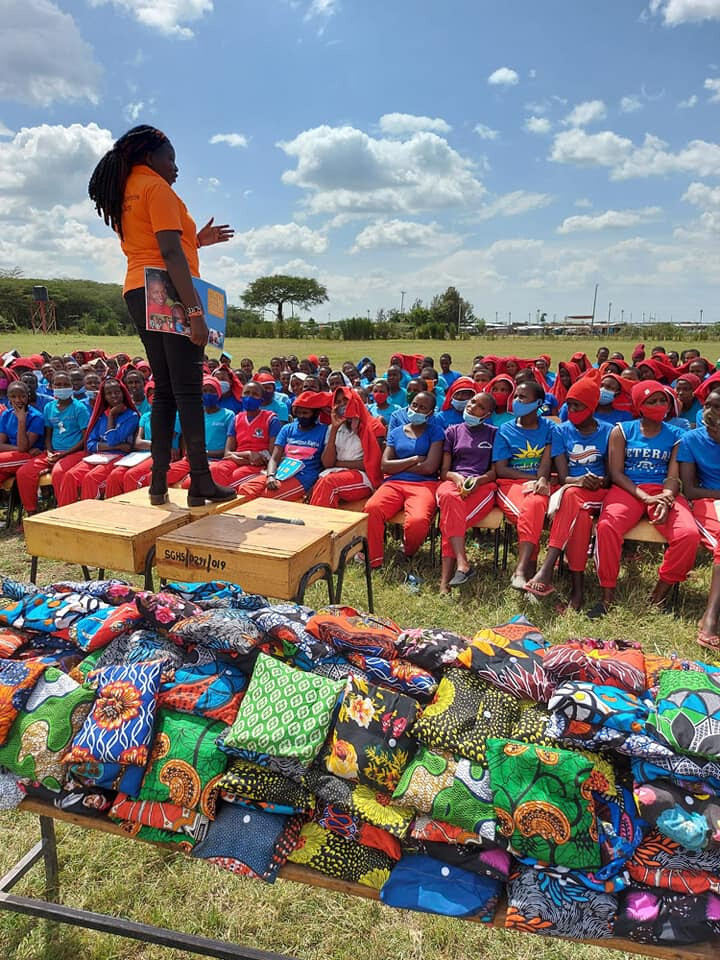 Distribution in Kenya by a Nairobi enterprise leader
DfG is an international non-governmental organization that works towards menstrual equity and health. It was founded by Celeste Mergens in 2008. While planning a visit to an orphanage in Kenya, as part of her mission work, she became curious about how girls managed their menstrual periods. When Celeste discovered that every month, for the duration of their periods, they had to sit in their rooms on pieces of cardboard, she founded DfG to address the problem. 
Although distributing consumable menstrual pads addresses some of the urgency of menstrual health needs, ameliorating menstrual poverty in a significant and sustainable way requires addressing a range of factors. DfG takes on two fundamental aspects of menstrual poverty: increasing access to both menstrual supplies and education, and raising awareness through advocacy and policy work. They do this by developing global partnerships, cultivating social entrepreneurs, mobilizing volunteers, and continually innovating with sustainable solutions that shatter stigma and limitations for people who menstruate. 
When Louise Colonnier first became involved with DfG, the USA-based organization was in its early stages. She started sewing as a volunteer in 2014 for the Edmonton team, which was one of the first ones to emerge in Canada. That same year, DfG Canada was officially incorporated as a charity. Louise now wears several leadership hats at the local, national, and international levels, as Edmonton Chapter co-leader, Canada Coordinator on the DfG Canada Board of Directors and international Translation Coordinator. 
Days for Girls volunteers work within small teams and larger chapters. Here in Canada, DfG has teams from coast to coast. There are 20 DfG chapters and teams in Alberta, about the same number in British Columbia and Ontario, and a few in Saskatchewan, Manitoba, and Atlantic Canada. 
These volunteers sew, assemble and distribute washable, reusable menstrual hygiene kits. The main component of these kits is a washable, reusable menstrual health pad that lasts between three to five years. Since their prototype, the design of the menstrual pads has undergone 29 iterations. In their latest form, DfG pads have a high degree of acceptance; they are beautiful, comfortable, absorbent, and context-appropriate. The various layers of each colourful pad can be unfolded to wash and line dry, and they dry quickly. Users can adjust the number of cotton flannel layers according to their flow and required absorbency, and snap the wings of a shield over their underwear to keep the pads in place. People who receive DfG Kits are also given guidance on their use and maintenance, as well as other vital health education.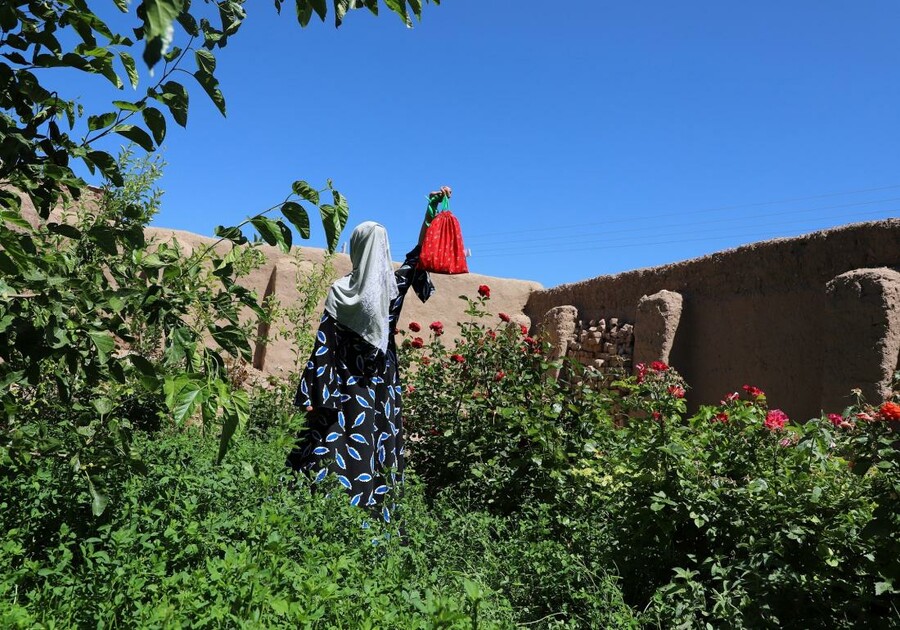 DfG Kit recipient in Afghanistan - by our partner World Vision Canada
During Covid, DfG Canada volunteers are not travelling to distribute the kits, but their work has continued. In partnership with World Vision Canada, DfG ships the kits to the World Vision central warehouse, where the kits are then included in the containers shipped globally by that organization.
DfG has also begun working in-country in the Global South, helping local leaders to establish sustainable businesses that produce and sell menstrual products and provide health education. DfG provides a two-week training course in which trainees learn the rudiments of running a business and how to sew to the level required to ensure the quality of the DfG Kits. There are now close to 200 such enterprises in 24 countries, and many more are in the works.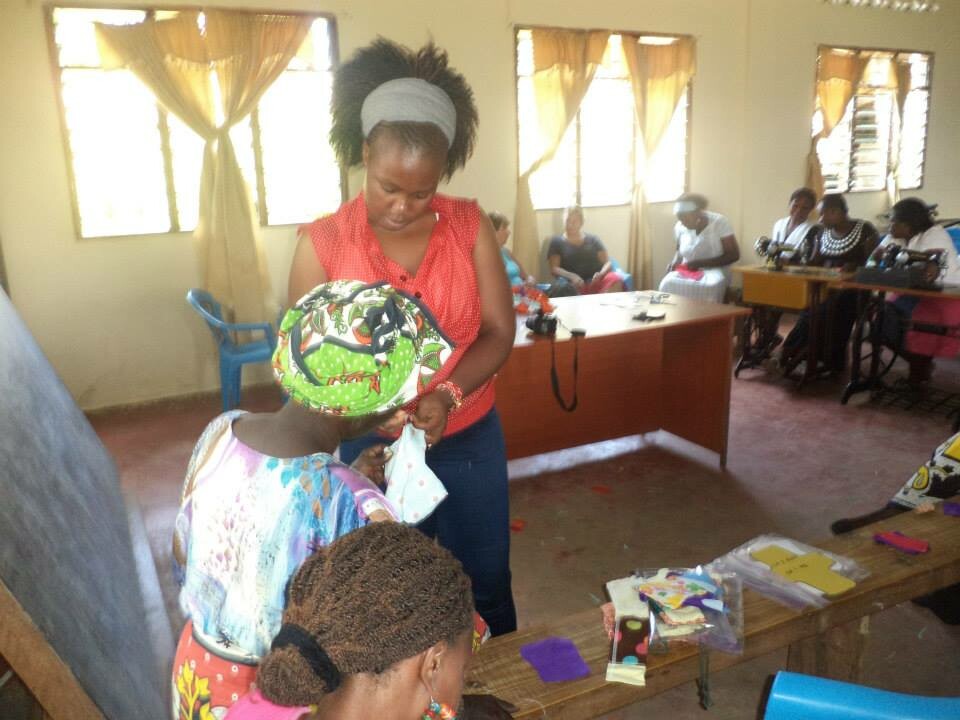 DfG Social Enterprise training
Louise has recently overseen the development of one such enterprise in Ivory Coast. A group of orphans who finished secondary school and subsequently completed the training course is about to launch their new DfG Kits social enterprise. No longer doomed to sitting in isolation on a piece of cardboard for five days a month, they have become part of the solution — for themselves and others. 
Thanks to the work of people like Celeste, Louise, and a legion of volunteers like them, since 2008, DfG has reached over 2 million people in 144 countries with menstrual health supplies and health education. 
To learn more about Days for Girls Canada and the many ways in which you can support their work, please visit daysforgirls.org/canada.