Delivering Menstrual Products for an Edmonton Without Period Poverty 
All Cycles Edmonton
The past year has made the ubiquity of period poverty in Canada abundantly clear to people who had never experienced it before. It has also made the need more acute for those already besieged. 
Edmonton local Celena Campbell had never experienced menstrual poverty first-hand, but it has been on her mind and close to her heart since way before the pandemic. Her first glimpse of the extent of menstrual poverty in the city happened while inquiring about what donations the Bissel Centre needed. She was shocked at what she saw and how it had never crossed her mind before. Until then, Campbell had not realized that menstrual products were in such short supply or that people could donate them.
"Growing up with a certain degree of privilege, access to menstrual products was always a given," she says. "I looked deeper into this issue and discovered that there was a severe lack of menstrual products in the city."
This was all the inspiration Celena Campbell needed to kickstart her non-profit, All Cycles Edmonton, with a friend, in 2018. At the time, if anyone in need asked for menstrual products at shelters or other centres, they would receive three tampons for their entire cycle. "As anyone who has ever experienced a period knows, this is grossly insufficient," she points out. 
In Canada, menstruators spend approximately $6,000 or more on menstrual products in their lifetimes. The current price point alienates three-quarters of those under the age of 25.
"Even for those who are not low-income or below the poverty line, this cost accrued solely because of a biological function creates an additional barrier. It's one that non-menstruators do not have to face," says Campbell.
She strongly believes that specifically donating menstrual products helps to reduce the barriers to access. And what's more, it also improves the overall menstrual health of Edmontonians in need.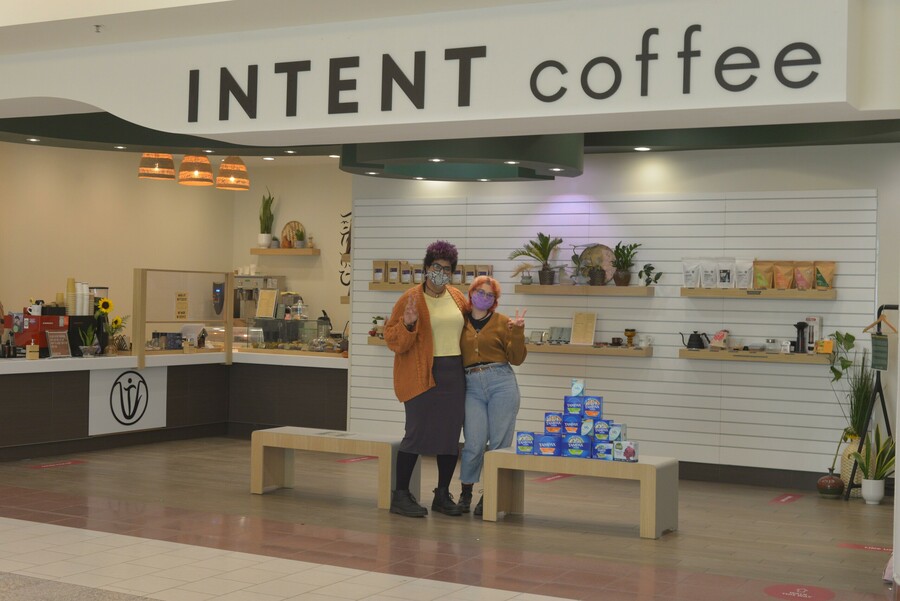 Shay Lewis and Celena Campbell pick up menstrual product donations at Intent Coffee in Southgate mall.
As an organization, All Cycles Edmonton prides itself on providing these rarely donated products to those in need. And with multiple donation bins around the city, All Cycles also aims to help destigmatize menstruation. 
On May 14, 2021, All Cycles participated in an incubator event on menstrual equity organized by Equal Futures Network, an initiative of CanWaCH. 
"Period poverty, taboos and stigma, and lack of adequate sanitation infrastructure are just a few examples of how menstrual inequity undermines the health, rights, and wellbeing of individuals across Canada," they state online. 
A variety of organizations across Canada aim for the same goal: to provide free menstrual products and to destigmatize menstruation for everyone. The event brought together these organizations to exchange their challenges and brainstorm ideas. 
This gathering in Canada followed the encouraging recent strides made around the world towards period equality. In 2020, Scotland made period products free. New Zealand followed a year later by offering free products to students. In Edmonton, city council voted to provide free menstrual products in all city washrooms by the end of July 2021. 
While these changes seem small, they are still a step forward.
"Ultimately, our number one goal is not needing to exist because menstrual poverty no longer exists in the Edmonton region," Campbell says. "We will continue to fight menstrual poverty wherever we see it by continuing to supply shelters and drop-in centers throughout the city. We will also push at all levels of government to supply menstrual supplies in public spaces, making them accessible for all Edmontonians."
Menstrual products are rarely donated to shelters. All Cycles is an Edmonton non-profit that provides menstrual products to the homeless and income insecure. All Cycles also strives to destigmatize menstruation and dissociate it from an inherently feminine experience. 
To learn more about All Cycles Edmonton and how you can support them with donations or volunteering, please visit allcyclesyeg.ca. They are currently offering free, safely distanced delivery of menstrual products to Edmontonians who need them; you can request delivery on their website.