Public Health Student Leaders Step Up for Edmonton School Children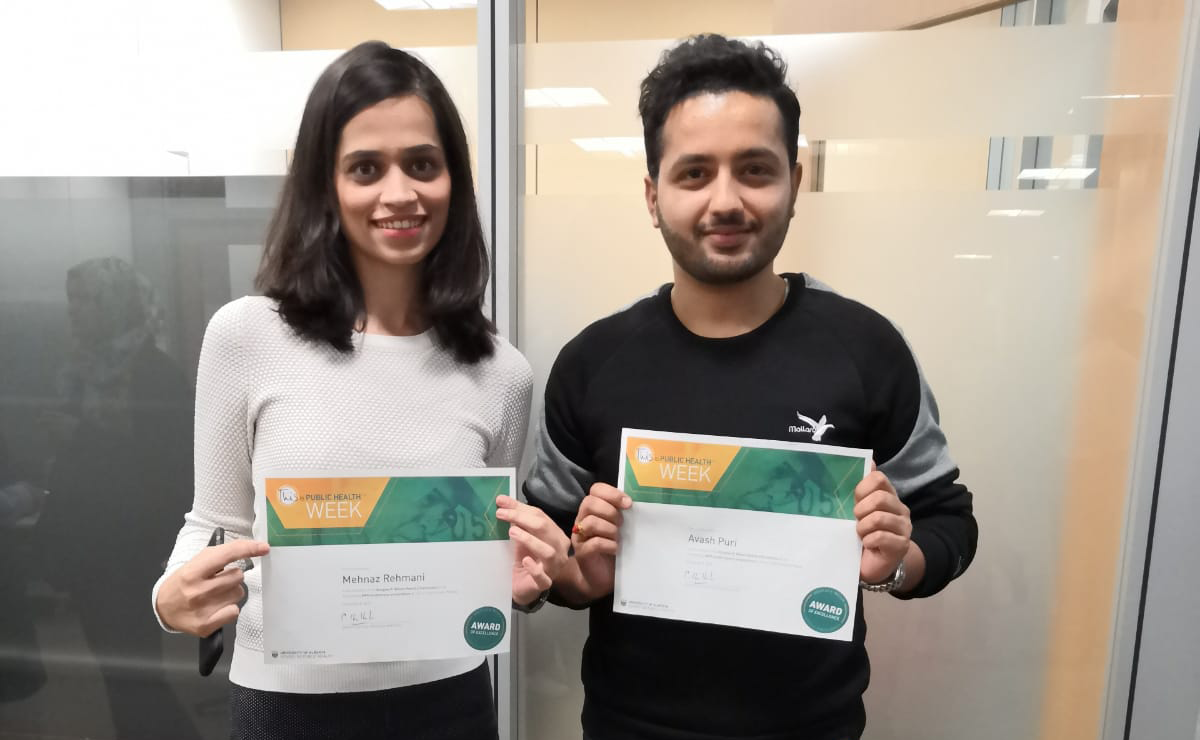 Mehnaz Rehmani and Avash Puri, Student Advocates for Public Health (SAPH)
If you have ever been caught in a public washroom stall that had run out of toilet paper, you can relate to the urgent distress of not having an essential hygiene product, like a menstrual pad or tampon.
Picture that lack of a human necessity, month after month, period after period: that is just one facet of period poverty.
Period poverty has significant impacts on dignity, gender equality, education, and reproductive health. Period poverty is something that people who do not menstruate are unlikely to have put much thought into. Unrecognized and unfamiliar, under cover of stigma and gender inequity, period poverty burdens the health of many people around the world.
Menstrual health is a fundamental step in global health and gender equality. Interventions in menstrual health increase attendance in school for school-age youth who menstruate and they increase participation in economic activity for adults who menstruate. In low-income countries, one additional year of education correlates to an average increase in income of 8-10% in the long term.[i]
In global terms, the World Bank estimates that 800 million people menstruate, and 500 million of them lack access to adequate facilities for menstrual hygiene management. Period poverty is a widespread problem, and not just in low- and middle-income countries. It happens in Canada, too.
One-third of Canadian women under the age of 25 have struggled to afford menstrual products for themselves or their dependents. Across Canada, 51% of women and girls have reported having occasionally missed out on activities because of concerns about access to appropriate menstrual products and facilities.[ii] Almost one in seven students have either left school early or missed school entirely because they did not have access to the menstrual hygiene products they needed to manage their periods.[iii] 
The bottom line is that menstrual poverty will not stop until someone steps up with leadership, know-how, the will and ability to take action, and to so with compassion. 
Fortunately for the citizens of Edmonton in Alberta, Canada, these are qualities that Student Advocates for Public Health (2020) from the University of Alberta have in spades. As part of a class project, the SAPH 2020 team launched their leadership journey in menstrual equity advocacy. They were guided and mentored by University of Alberta's School of Public Health professors Les Hagen and Dr. Louis Hugo Francescutti.
Their class project involved identifying an issue they cared about and taking action to address it. The team landed on menstrual equity. Understanding the experience of students was key to the success of their project. They started before the pandemic, when in-person engagement was still possible. The advocacy/engagement team went to the schools, attended student meetings, and talked to students. Most of all, they listened to the students. 
Their stories were heartbreaking. The period poverty and stigma experiences that the students shared made the situation abundantly clear: there was an urgent need for free access to menstrual products in Edmonton schools. The issue was no longer just an idea or a theory or a class project.
What they heard strengthened the resolve of two of the SAPH advocates, Mehnaz Rehmani and Avash Puri.
As a registered nurse, Mehnaz has great empathy and a knack for active listening, which were invaluable to developing genuine connections with students.
"These are the stories of our friends and sisters and mothers," she says. Everyone who menstruates can understand this experience; it affects all of society. Period poverty is an issue that must be personal to all of us. Menstruation is a normal biological process and therefore access to menstrual products is one of our basic needs. It is as basic as toilet paper. It's high time to end period poverty!"
Avash also brought experience and empathy to their endeavour. In 2014, he co-founded a non-profit organization in Nepal called Save the Life of People (SLOP). For his work in Nepal, he was recently recognized with an ACGC Top 30 Under 30 award. Avash then drove his passion for public health home to Edmonton, where he now hangs his toque.
"Students deserve healthy, inclusive and equitable learning environments," he says. "And part of creating such environments is ensuring the availability of free menstrual products at schools. Our students need to feel safe, inclusive, comfortable and empowered in schools while they are on their periods. No student should feel stigmatized, discriminated against or miss school days due to the inaccessibility and unaffordability of the menstrual products."
Mehnaz and Avash had a long way to go. When they began looking into the issue with their fellow advocates in 2020, the most encouraging step towards menstrual equity in Canada dated back to 2015, when the GST tax on menstrual hygiene products was eliminated.
Just as they were beginning their advocacy journey, progress in menstrual equity started to sprout, scattered across Canada. In the spring of 2019, the Government of British Columbia issued a ministerial order that all public school boards were to provide menstrual products in school washrooms to students of all gender identities by the end of the year. Toronto followed suit a few months later. In August, the Toronto District School Board announced that it would provide menstrual products free of charge at all its elementary and secondary schools for the 2019-2020 school year. That fall, the Government of Nova Scotia announced that all public school students from grades four to 12 across the province would have access to free menstrual products. 
Led by youth, momentum also started to build in Alberta. 
Some students at the University of Alberta Student's Union began offering free menstrual around campus. Similarly, the SAPH 2020 also came forward and called for free menstrual products to end period poverty and promote menstrual equity.
"Menstruating students should be focusing on their next school period rather than their period," they stated. Their tagline—"it's about bloody time"—raised some eyebrows, but it also managed to gain attention. 
After a brief setback brought on by the COVID pandemic, Mehnaz and Avash resumed their advocacy and collaboration efforts in 2021, undeterred and unrelenting. Their efforts culminated in a landmark presentation.
Representing the group of students in their Student Advocates for Public Health (SAPH) group, on April 13, 2021, Mehnaz and Avash presented to Edmonton Public School Board Trustees. They brought forth a strong case for providing free period products in all Division schools. 
They had good reason to be optimistic about how their call to action would be received. A few days earlier, the City of Edmonton had committed to providing free menstrual products in all women's and gender inclusive washrooms located at city-owned facilities. This breakthrough came following advocacy by an organization called No Woman Without and a successful pilot project where free menstrual products were provided in some city facilities. 
Victory finally arrived. On April 27th, 2021, the motion was passed during the Edmonton Public School Board (EPSB) meeting. The EPSB aims to have free menstrual hygiene products available in Edmonton public schools this fall. 
This new policy is a huge win for menstrual equity in Edmonton, thanks to Mehnaz and Avash, the SAPH 2020 team, and all menstrual health and equity champions who have stepped up. 
Victory arrived just in time for March 28th, Menstrual Hygiene Day. 
Mehnaz, Avash, and their SAPH 2020 were right on. It really was about (bloody) time to end period poverty for Edmonton schoolchildren. 
--
 [i] https://menstrualhygieneday.org/wp-content/uploads/2021/01/Making-the-Case-for-Investing-in-MHH-Report_Final.pdf
[ii] https://plancanada.ca/file/Plan-International-Canada--period-stigma-2018-report.pdf
[iii] https://www.businesswire.com/news/home/20180807005273/en/Nearly-1-in-7-Canadian-Girls-Have-Missed-School-Due-to-Lack-of-Period-Protection1-Always%C2%AE-Wants-to-Help-EndPeriodPoverty-and-Keep-Girls-in-School