Global Connect 2023, Part 1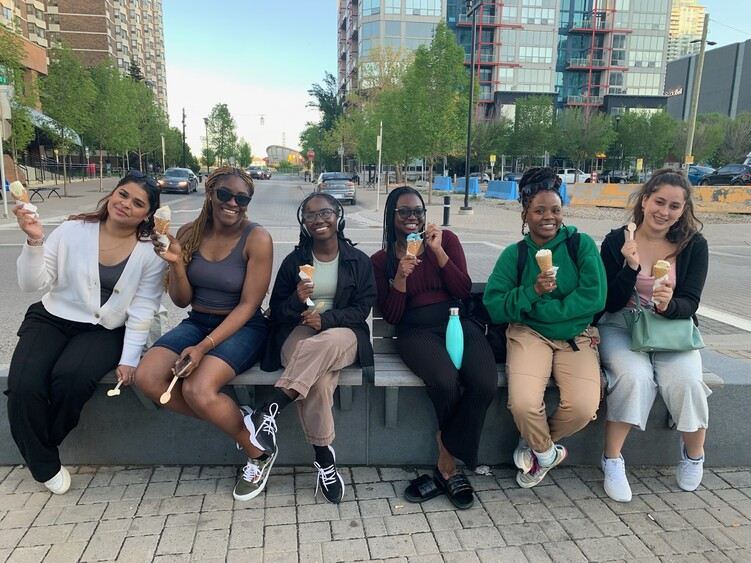 Meet Esther, Precious, and Harveen!
Over 10 days this spring, six youth participated in the 2023 Global Connect program, visiting several international cooperation and social justice organizations and gaining professional development experience. They share their thoughts, as well as their favourite photos, below.
Esther Muloki
I joined AGCG's Global Connect program because I wanted to learn more about international development. I have always been passionate about global citizenship, and this experience was an opportunity to learn more about Alberta's role in international aid and development. Through my interactions with various organizations, I have gained a profound appreciation for the intricate nature of the international aid and development sector. Each organization is unique and employs different methods to achieve its objectives.
During my time with global connect, my most impactful experience was visiting one of the Canadian Foodgrains Bank farms outside of Edmonton. The Mennonite Central Committee has partnered with the Canadian Food Grains Bank to collaborate with local farmers for crop production. A portion of the profits from the crop yield is donated towards providing food aid in areas affected by famine. It is important for organizations to tap into Alberta's robust and thriving sectors, such as agriculture, to create opportunities for Albertans to get actively involved in international aid and development.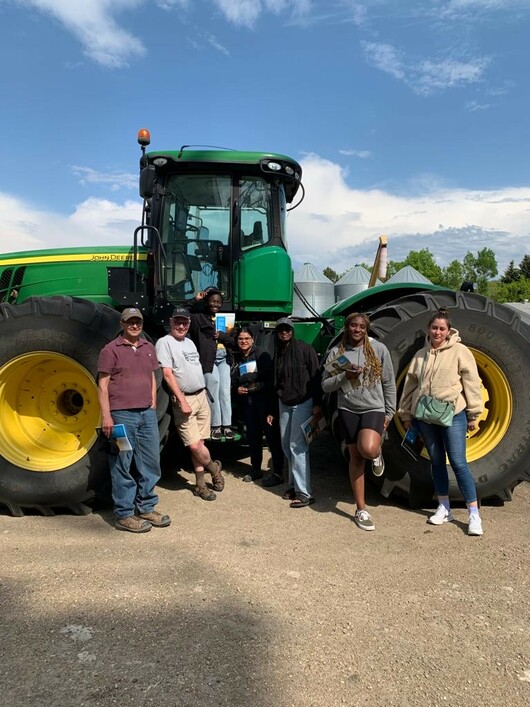 Image: Visit to a Canadian Foodgrains Bank farm and getting to meet local farmers. 
Precious Majekodunmi
The fourth day of the global connect program left a deep impression on me due to our visit to Canmore, where we were captivated by the breathtaking mountain views after an educational hike with the Biosphere Institute. Additionally, I attended a round table meeting where non-profit organizations from Alberta gathered together to engage with Patricia Peña, the Assistant Deputy Minister of Global Affairs Canada, discussing their international projects, its impacts and the challenges they face. Being present during this round table was a privilege as it exposed me to the remarkable contributions of Alberta-based organizations in global development. I was also able to talk with the executive directors and learn more about their organization's groundbreaking work. This experience has fuelled my desire to pursue a career in international development, leaving me inspired and motivated. While Alberta-based organizations have made significant strides in international development, I also learned that there is still more work to be done. I was particularly impressed by the diverse areas the Alberta-based organizations focus on, ranging from preventing blindness to constructing schools in Guatemala and ensuring educational opportunities for orphaned girls in less developed nations. As a youth, it was reassuring for me to discover that the Canadian government was committed to enhancing the global community because it demonstrated that the pursuit of International development will be attainable. 
After completing the ten-day Global Connect program, I have gained substantial benefits in terms of forging meaningful friendships and networks, improvement of communication skills and expansion of my knowledge of sustainable development. The program has had a tremendous impact on me in numerous ways, equipping me with valuable skills and knowledge that will be invaluable in my future pursuits. I have gained a significant understanding of conservation and the possible actions that I can undertake as a youth. I am grateful for the opportunity to participate in the program and eagerly anticipate the achievements that both myself and my fellow global connect members will accomplish.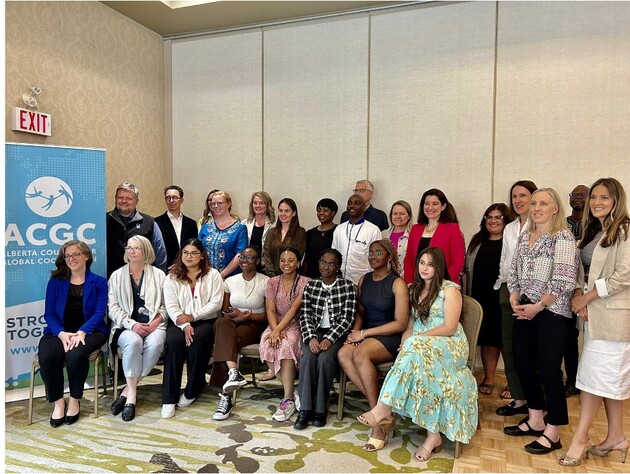 Image: ACGC Round Table with Global Affairs Canada ADM Patricia Peña and ACGC members.
Harveen Saini
Looking back at my time during the Global Connect program, I am grateful to have met amazing individuals. Whether it was the conversations and thoughts we shared in sessions or the conversations we had day-to-day, I got to learn more about their personalities and outlook on the world. It was interesting to see six individuals, including myself, find comfort in one another. I picked up some Spanish, I learned everyone's interests, their quirks, and their life stories. For me, the one thing that stood out was the empathy and passion each individual shared.

The experience that resonated with me the most was our time at Painted Warriors over the weekend: no cell phones, no service, just conversations, and connections. On our first day there, we learned how to identify animals and start a fire. On our second day, we practiced our archery skills, went on a forest exploration, and learned how to bead. These two days were refreshing as they allowed me to reflect and connect. A moment that I hold close to my heart was on our second day at the Painted Warriors campsite, we were in the middle of our 3D archery session, and in the corner of my eye, I saw a herd of horses coming our way. My favourite of them, "Baby Boy," had a black shiny coat and he loved my phone because anytime I pulled it out, he was ready for a selfie.

Participating in multiple sessions a day over days days, I was inspired by the work that was being done in my province. A key learning I picked up from each organization we visited was that we need to give communities the space and autonomy to voice their concerns and needs. We need to work WITH communities and not ON communities. We need to enable local capacity building and tailor our approaches to listen to communities. Participating in the Global Connect program and hearing from multiple organizations and individuals, and seeing the amazing work that is being done in the international development sector, I am happy to say that I am proud to be an Albertan!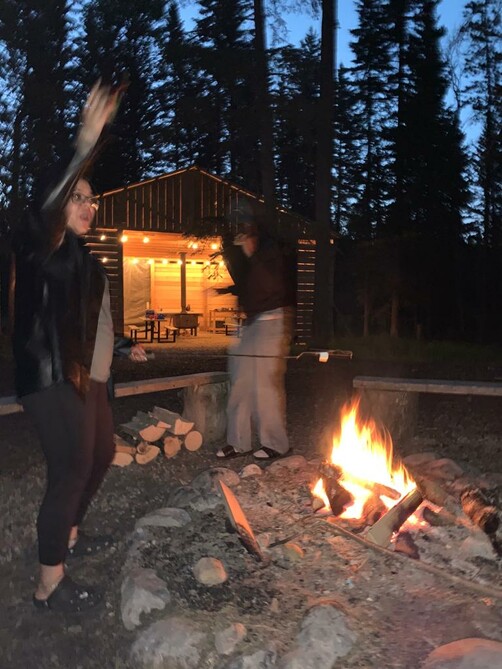 Image: Dancing by the camp fire at Painted Warriors Ranch.