Mennonite Central Committee
On a warm afternoon in the middle of May, employees of the Mennonite Central Committee (MCC) in Alberta and Saskatchewan were brainstorming ways to reduce their environmental impact. MCC is a global non-profit organization that supports relief, development, and peacebuilding efforts around the world. In recent years, MCC's partners have spoken increasingly of difficulties their communities face due to the effects of climate change, and their vulnerability in the face of natural disasters like hurricanes and droughts.
After some lighthearted discussion about which prairie office was the greenest, we decided to introduce a small dose of healthy competition for the summer. This is how the Summer Green Challenge was born.
"The Summer Green Challenge is about developing a sense of what long-term sustainability looks and feels like in action."
The goal for the Challenge is simple: to provoke thought about the small choices that a person can make each day as they move towards more substantial changes down the road. Each day, the participants attempt to make three sustainable choices that contribute to a more environmentally-friendly lifestyle. Individuals are awarded one point per day in three different categories — waste reduction, transportation, and food — for a possible total of three points.
For Abe Janzen, MCC Alberta's executive director, the Challenge immediately revealed some of his bad habits, which he quickly found ways to address. "I find myself considerably more conscious of when I'm idling my car, and the amount of disposable paper products I use each day," Janzen explained.
One lunch hour, we gathered in the boardroom to make homemade toothpaste and deodorant — a practical way to reduce unnecessary plastic packaging. The toothpaste garnered good reviews, although some thought it tasted too salty. As for the deodorant, let's just say we have more work to do! Orlando Vasquez, our program director, joked about his struggle to walk an hour to work each day — barefoot, carrying a bag filled with rocks, the sun beating down on his shaved head …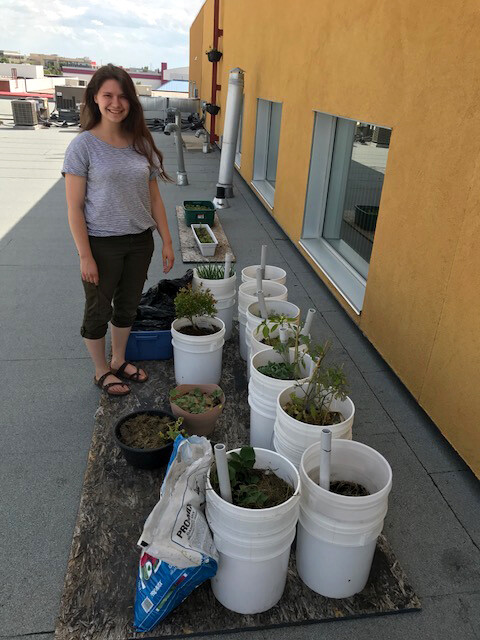 Of course, making our lives needlessly more difficult is not the point of going green, though it can feel that way sometimes. Instead, the Summer Green Challenge is about developing a sense of what long-term sustainability looks and feels like in action.
For example, a number of people in our office initially cringed at the idea of eating less meat. However, after a tasty vegetarian meal here and there, it began to seem like a small, but sustainable step towards decreasing our carbon footprint. Though no one was brave enough to venture into veganism, many of us realized that we don't need to eat meat nearly as often as we currently do.
At the time of writing this story, we still don't know who will win the Summer Green Challenge, though we will celebrate no matter the outcome. Not only have we had a lot of fun, but we also feel inspired to make the world greener, in ways both big and small.